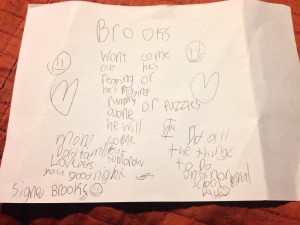 Here is the note  he taped to his door. He messed up.  He got caught. He lied.
The night before, he took and cut all the pieces and items off of a completely perfectly glittered mum.  Remember, I'm from Texas and we MUM!  Ribbons and bears, eagles and lights, glitter and feathers, flash and fancy.  NEVER to be out-mummed, I had stapled and hot glued -tack glued and stapled some more just for good measure.
With a few precise cuts with pinking shears–he withered that mum to nothing but a pile of  guilt and shame and heartache.  He took what he wanted, stashed eagles and bears and ribbons and bows beside his bed where he could keep them forever.  When he got home from school later the next day, he knew I knew.  His heart knows my face.  And I offered a chance for him to confess.
"Are you mad, Mom?"
"No, Son.  But I am disappointed. Do you have something to tell me?"
"Not if you're not mad".
Before running a few errands, I left orders for chores to be finished, get backpacks unpacked, lunches undone and rooms to be cleaned…
"MY ROOM!"  and it hit him.  He scurried to his mum burial ground beside his bed only to find-nothing.  And then he was sure I knew.
So he showered, brushed his teeth, put on a pair of pajamas, wrote a note, and wished his mum reality away.
And me, my heart broke from the why's and his lies.  I drove around picking up this and that realizing that he didn't trust me enough to come clean.  He passed on his chance to be truthful.  I fixed the mum in about 10 minutes and yet I remained devastated by it's destruction.
I say to myself, "It's a mum! What's the big deal?"
But it wasn't the mum.  It was my boy…my puzzle-my heart.  My littlest that I can't always figure out and can't always know what he's thinking.  Did he just want the treasures?  Was he feeling left out?  Am I not giving him enough attention during this season?  Is it just a mum?  Did he really just want an eagle?
I came home and read the note.  There it was, misspelled in chicken scratched letters a series of words  strung together that crushed me. He did what he thought was the best thing he to do-lots of good things to make up for it for the bad things….
"I'm reading"
"I'm playing rummy alone."
"Or puzzles."
"I did all the things."
I saw the me I didn't want to see.
The – do this to be perfect -do that to make things better -add this to fix it-work harder-do better, the you'll see of my past scribbled in grey on white paper.    Overwhelmed with the reality that my Brooks and Monte and Gretchen need more than me in this world…they need my Savior.  And I did what I know to do now-what I didn't know then, I prayed.  I let Him fill the voids and dark places.  I remained and stayed steady. I shared with a dear friend the burdens of his tender heart and sweet spirit.  My tears were for something even bigger than a Texas mum.  I opened my hands and gave it to Him.
We hung the mums in the closet-polished and perfected for their big debut.  We wiped our tears and our noses hugged and made up.  He sat on my lap as I broke the news that he is grounded from the iPad- and scissors of any kind.  I asked him to come on out and said nothing more and that was enough.
"Other things may change us, but we start and end with the family." — Anthony Brandt

Subscribe to Blog via Email